Did you know that Bed Bugs are one of the biggest pest problems in Northwest Ohio? Bedbugs are hitchhikers and travel easily from place to place. That is why it is important that you know what to look for and know what to do if you find them.
IDENTIFICATION
3/16" long, broadly oval shaped
Adult bed bugs are reddish brown, wingless (flattened body when unfed)
Unfed bed bug nymph's are straw colored (after feeding, nymphs are crimson red)
Lay 1-5 eggs per day (21 days from egg to adult)
HOW INFESTATIONS ORIGINATE
Bed bugs are efficient hitchhikers and are usually transported on luggage, clothing, beds, furniture, etc. Outbreaks can often be traced to travel, especially in countries or cities where bed bugs are common. This is a particular problem for hotels, motels, and apartments, where turnover of occupants is constant.
Bed bugs are small, escaping detection after crawling into suitcases, boxes, and belongings. The eggs are almost invisible when laid on most surfaces.
Use of secondhand beds, couches, and furniture is another way that the bugs are transported into previously non-infested dwellings. Bed bugs can migrate from one room or apartment unit to the next through pipe and wiring runs, and in wall and ceiling voids. Found most often in hotels, apartments, rooming houses, schools, homeless shelters, and private homes, bed bugs can infest hospitals, nursing homes, trains, planes, buses, cruise ships, theatres, moving vans, or any place frequented by people.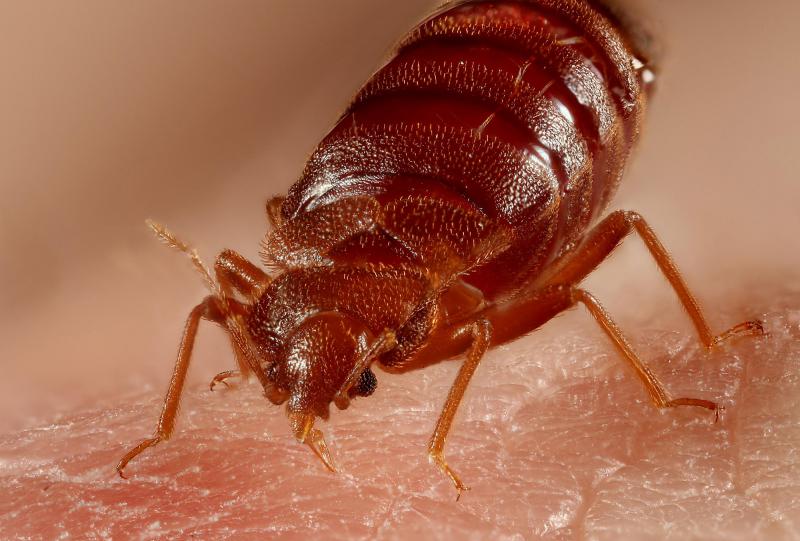 SIGNS AND SYMPTOMS OF AN INFESTATION
Bed bug bite signs and symptoms will usually only affect the surface of the skin, revealing themselves as small itchy red bumps known as papules or wheals
Large, itchy wheals can be up to 20 cm across
Skin rashes similar to hives
Blister-like skin inflammations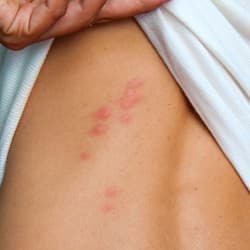 TREATMENT
When treating for Bed Bugs, we rely on a thorough understanding of bed bug identification, life cycles, proper inspections, and complete remediation through the use of proper insecticide applications and techniques.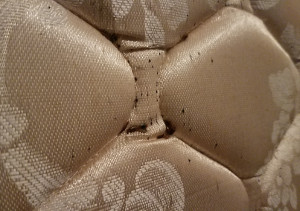 Insecticide applications are important for bed bug elimination. Residual insecticides are applied as spot treatments to cracks and crevices where the bed bugs are hiding. Insecticide dust formulations may be used to treat wall voids, hollow bed frames, headboards, etc. Repeat insecticide applications may be necessary if bed bugs are present 30 days after the initial treatment since hidden eggs may have hatched and hidden adults may be inactive for long periods of time.
DIY treatments can be successful with the use of the right insecticide products and a proper understanding of how to use them properly. You can view our current list of products HERE.
DO NOT USE INSECTICIDES on a mattress unless the product label specifically mentions such use.
REMEMBER.....THE LABEL IS THE
LAW